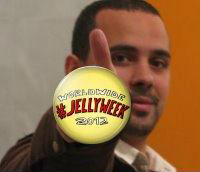 Mazen Helmy , Cairo, Egypt
1) Could you introduce yourself?
25 years old Normal Egyptian guy, studied civil engineering, believing in individual empowerment and enabling. I have worked and started many development projects, now starting one the first coworking space in cairo and Egypt, targeting entrepreneurs and startups, being socially responsible.
2) Please tell us about your coworking space?
Our space " The District – Egypt " is one of the first coworking spaces in Cairo, located in the busy neighborhood of Maadi with a beautiful view over the Nile.
The District has a total area of 600 sqm (6460 square ft) varies from indoor and outdoor working spaces. We are mainly targeting serious responsible entrepreneurs and startups, helping them work efficiently with higher impact while valuing cocreation, openness and networking with similar like minded citizens.
3) Do you have some special plans (events) during worldwide jelly week?
We working now with the first wave of coworking and open spaces, to join forces organizing interactive events to raise awareness about the idea and practice of coworking in different spaces, targeting different people.
4) What is your unique points to improve community relations? / How do you improve community relations?
Periodic gathering event, visually mapping the other coworkers, wlecoming new comers and help them getting integrated withing the community.
5) please tell us your references you got the above skills to manage community.
6) Generally, do you organize weekly and monthly events at your space? (ex, Friday-jelly, Sunday-reading club)
Yes, it s very important to have various gathering events in a big space to help matching and connecting coworkers
7) Let us know the most exciting project for you launched from coworking space.
8)What is the most interesting as a space owner/ communication manager?
Networking, always meeting new ppl. the energy inside the space, always positive
9) Your visions and hope for coworking in the future.
We hope to spread the movement of coworking space each with its different targets in different spots in this huge city. expanding our network. Witnessing our coworkers (entrepreneurs and startups) grow and succeed.
10) Let me add a few words to conclude.