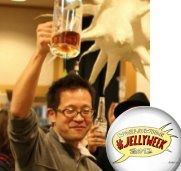 Kyo Satani ;  PAXCoworking, Tokyo, JAPAN
1) Could you introduce yourself?
I am the owner of PAX Coworking, the first coworkng space in Tokyo, and also a Jelly pioneer in Japan. PAX Coworking is one of the most exciting and wonderful offices where everyone is "working while partying".
I am also the owner of paxi house tokyo, one of the most famous community restaurant which is featured in paxi (coriander in English) cuisine. Guests visiting this restaurant have great chances to get acquainted with others since it has various know-hows including a standing space to facilitate exchange and communication. Many of guests has been making friends with somebody and some has found their business partner at paxi house tokyo.
2) Please tell us about your coworking space?
PAX Coworking is a flagship coworking space in Japan located in the suburb of western part of Tokyo. We have around 20 regular members and several drop-in (one-day use) visitors.
Half of us have a background of IT related business, and others engage in agriculture assistance, food management, counseling, design, non-profit business, publishing and so on.
PAX Coworking is not just an office. We have a nice restaurant downstairs, and great variety of people come and visit the office, stimulating coworkers. We often go downstairs after work and create values and new ideas from relaxed discussions with others.
3) Do you have some special plans (events) during worldwide jelly week?
We have Jellies everyday! And hopefully we can have skype conferences with other coworkiing spaces. Please feel free to contact with us to share wonderful experiences. And our intern, Keiko Takeo, provided a questionnaire to all the ambassadors to cheer up the worldwide #JELLYWEEK.
4) What is your unique points to improve community relations? /How do you improve community relations?
We often have parties and gather various type of people to our place. We have no private spacenor exclusive seats.
5)  please tell us your references you got the above skills to manage community.
Organizing and participating in lots of parties since 19 years old.
6) Generally, do you organize weekly and monthly events at your space? (ex, Friday-jelly, Sunday-reading club)
We have Jelly-day every week to make potential coworkers feel free to visit. We also have reading clubs and study groups.
7) Let us know the most exciting project for you launched from coworking space.
We are now preparing for a coworkers' conference (big Jelly) in June 2011, and for a unique marathon hosted by coworkers with each skills.
8)What is the most interesting as a space owner/ communication manager?
I have innumerable occasions to meet and drink with unique people.
9) Your visions and hope for coworking in the future.
I hope each city/station has coworking spaces and more people work in a joyful way. And hope to let all the people believe that we are working to make the world a better place.
10) Let me add a few words to conclude.
Thanks, Takeo-san. I hope this questionnaire can be a trigger for all the coworkers to connect and to have more passions to spread Jelly and Coworking.