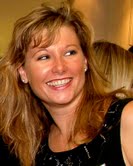 Annette Morris, France
1) Could you introduce yourself?
I am a freelance internet marketing specialist. I am English and have lived in France (Languedoc-Roussillon) for 4 years.
In March 2010 I established "Languedoc Jelly". I was inspired to start Jelly in France by Jan Minihane, organiser of UK Jelly. The first event in Languedoc took place in a coffee shop in Montpellier in April 2010. Since then, several new Jelly groups have developed in France such as Normandy, Ariège and Dordogne.
2) Please tell us about your coworking space?
Anywhere in the Languedoc region that would like to support Jelly!
3) Do you have some special plans (events) during worldwide jelly week?
Yes, one Languedoc Jelly event will take place in each of the 5 departments of the region;
16 Jan – Lozère
17 Jan – Gard
18 Jan – Aude
19 Jan – Hérault
20 Jan – Pyrénées-Orientales
4) What is your unique points to improve community relations? / How do you improve community relations?

To introduce the Jelly! concept to owners of coworking spaces and encourage them to offer it free. Jelly! is not a business and should be accessible to everyone and anyone.
Hosting Jelly! can be beneficial to owners of coffee shops, bars and other venues – it can bring them additional visitors and publicity at times when they might not be busy (ie. off-season)
5) please tell us your references you got the above skills to manage community.

Years of event management and marketing experience! Above all, enthusiasm for the Jelly ethos!
6) Generally, do you organize weekly and monthly events at your space? (ex, Friday-jelly, Sunday-reading club)
Nothing regular – this region of France is very busy in the summer. I organise Jelly in the low-season months when people have more time to participate and more venues are available.
7) Let us know the most exciting project for you launched from coworking space.
It is always exciting when people share ideas and experiences.
8)What is the most interesting as a space owner/ communication manager?
Bringing people together, watching new business relationships develop.
9) Your visions and hope for coworking in the future.
That more businesses will accept 'teletravail' can be possible & that homeworkers will have better support networks such as Jelly groups.
I hope more Jelly organisers will come forward in other areas of France.
10) Let me add a few words to conclude.